High-quality prints
Our paper brochures are printed on sturdy card stock with a professional semi-gloss finish.

Choice of brochures
You can choose a package of printed brochures, an e-flyer, or a combination of both.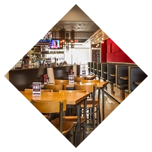 Custom designed
You won't have to make the brochure information and pictures fit into some silly template.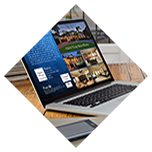 Cost effective
All of our brochures and e-flyers are cost effective, and we offer bulk pricing that some people enjoy.
Do you print real estate flyers or just specialize in e-flyers?

We offer print real estate flyers and e-flyers. By providing you with a comprehensive package, we enable you to have the best of both options. Real estate flyers serve very important purposes. They let prospective buyers know more about the home, even if you aren't there to let them know the finer details of the property.

E-flyers make your home appear more appealing to buyers online. These can be sent to email addresses as a reply to an inquiry about your property. They can also be used to advertise the property on social media websites. A link to the brochure could be placed in a post, tweet, snap, or other status messages.

We do offer discounts for bulk prints. All of our brochures are printed on high-quality card stock with a semigloss finish. Having printed brochures available to take from your home is a great in-hand reminder fro a prospective buyer.

What is your turnaround time on providing flyers and brochures?

Upon receiving your order, the proofing process begins the next business day. Once the photos are avialable, we will create the first draft of the brochure and email the proof to the customer for approval. At that time, if the proof is ready to print as-is, we will begin the printing stages. Once printed, the final copies are then mailed; the standard mailing-delivery time is 3-5 days.

You can choose also choose to print the brochures yourself. In this case, we would provide you with a copy of the final brochure for printing.

Do you offer different e-flyer pricing between commercial and residential properties?

Our prices are the same for residential and commercial brochures. We do offer bulk pricing for brochures and flyers so you can maximize the advertising budget for your property.

We understand that the brochures you provide for your property have to reflect the quality of the home or property you are selling. We use high-quality materials and focus on the overall appeal of the brochure to ensure that your home is accurately represented.